Discover more from OmarKnows
An opinionated newsletter about products I love.
Amazon Books - a brick and mortar book store - 5 stars
Online meets brick and mortar…. It's rather ironic seeing it go the other direction. I'll admit that I was surprised to hear that Amazon was opening a book store in our go-to shopping center, University Village in Seattle. But there is a lot more than meets the eye about this bookstore, and it's very Amazon.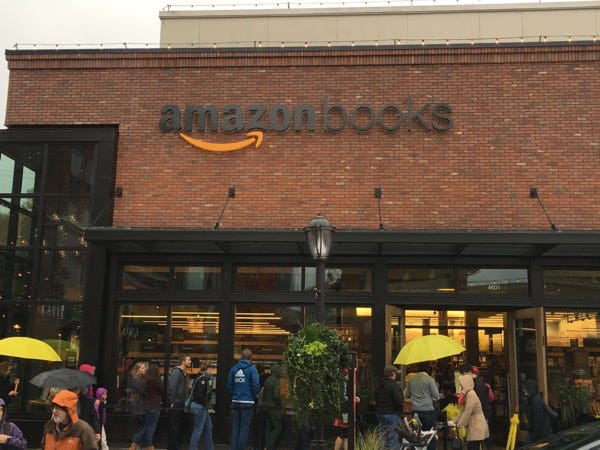 When you first step into the bookstore (after what is currently a short 5 min wait in line) you will notice a few differences.
Pricing
There are no prices on books. Just machines where you can scan the barcode to see the current price. Why? Cause the prices are the same as online so any printed price would not reflect the current price.
As an Amazon Prime member (I mean, who is not, I won't even bother to review) there are lots of "special discounts" to be had. For example, they were offering $30 off any Kindle Paperwhite or Voyage. I made an impulse purchase and got a Voyage.
Display
Books all face out towards you, with little placards with the current Amazon rating and a review from a customer.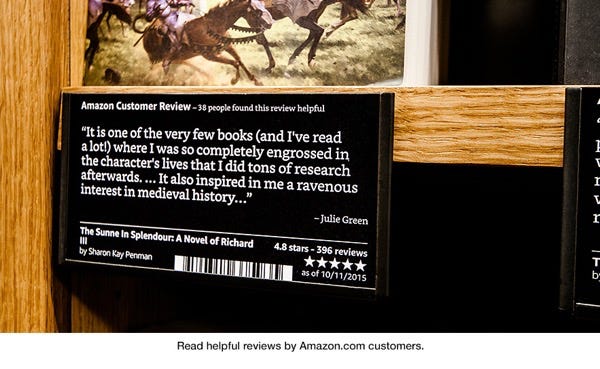 Books
My kids b-lined for the kids section and quickly found some books to investigate. It struck me that we mostly control what our kids read (except for the occasional visit to the public library and they don't really get to browse and discover books. So, it's pretty cool and empowering to have them select what they want to read, and flip through a few pages.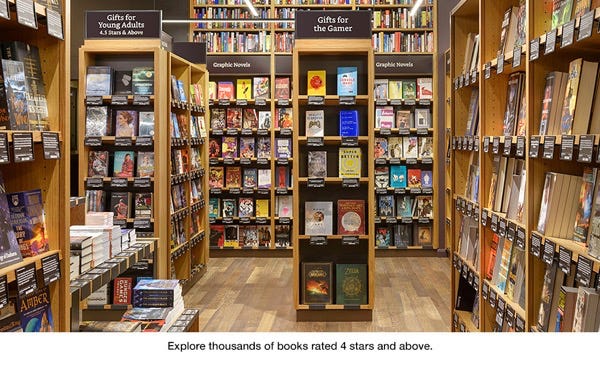 For me, it's a nice guilt free way for finding books to read and then purchasing on my kindle… guilt free. I don't feel like I am screwing the store owner by not making a purchase. Not quite Apples to Apples but an interesting twist on the classic purchase on-line but abuse the brick and mortar store to find what I want.
Magazines
One pastime of mine from college and travel is to browse the magazine section and make some purchases. I still like reading magazines (like Dwell) but it's not something I do often. So having a good magazine section is neat.
Other stuff
As you would expect, all the Amazon hardware is on display along with numerous Amazon Basics. products. This is a brilliant idea. For example, they had an Amazon Echo display with a bunch of products that Echo integrates with (lights for example) and little cards that give you examples of what you can ask Alexa. It's also located right at the store entrance, so lots of people can see and try Alexa in action.
Also on display were every Kindle product, case, and accessory including Fire TV.
Payment
It didn't occur to me, but when I paid with my Amazon credit card (the card associated with my Amazon.com account) it automatically put my receipt and order history in my account, and applied any discounts based on my Prime membership. Of course! A digital retailer with a brick and mortar store that has integrated the entire selling experience. Not even Apple does this.
But… it's just a book store
Well no. When you compare to the largeness of a brick and mortar like Barnes and Nobles it's nothing like it for a number of reasons. Barnes and Nobles has turned into a store that sells random crap. Calendars, toys, coffee, gifts, shitty e-readers, book lights. Let's face it. They tried to move online, did a poor job, and utterly failed at e-readers.
Amazon is of course taking its tried and true approach of using data to make everything better. Items in the store are selected based on what Seattle buyers like. I imagine data in the store will inform what products Amazon recommends online.
The store feels more like a boutique. A curated, manicured presentation of Amazon to people. A dose of humanity applied. They are even closed on Christmas and Thanksgiving day, unlike Amazon.com.
As one of Amazon's biggest fans, I love this idea…. I can only see this spreading to more cities.
★★★★★ Exceptional. A spectacular product.