Discover more from OmarKnows
An opinionated newsletter about products I love.
Apple Watch - 60 days - 4 stars
After writing up my Apple Watch - First Impressions review, I was asked to revisit in 60 days. Well it's been a bit more than 60 days and I'm still wearing it. Here are my updated thoughts. I should mention a few things though. My Apple Watch had a minor defect with the sapphire crystal. The coating applied to the crystal had some defects which appeared like scratches. I took the watch to the local Apple Store and they sent it back to Apple. I got a brand new replacement watch 5 days later. That experience was exceptional.
Apple Watch as a watch The Apple Watch is a superb watch. The build quality, the feel, the utility are there. I think of it like I do my previous watches and it does this job really well. You forget you are wearing a computer. On top of that it has a few features watches don't have: changing watch faces, user swappable bands.
Charging Not a problem. Not once have I gotten even close to the end of the battery. I end each day with about 50-60% battery life. Given all the noise about this pre-launch I'd say Apple more than exceeded expectations here.
Charging every night is also not a problem. I don't sleep with my watch and never have. I got an inexpensive Spigen dock from Amazon and it feels natural to just slap the watch on the stand and go to bed. No problem.
For travel I got myself a Dodo case that charges my watch and phone in a nice stand.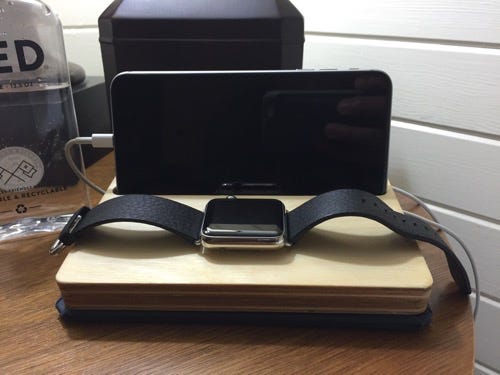 Bands I ended up buying the watch with the leather band and like how it looks and feels. Since then I've aquired the sport band (black) and the milanese loop. The sport band is way more comfortable than I imagined. And the milanese loop looks incredible, and feels incredible. And I love that it is infinitely adjustable.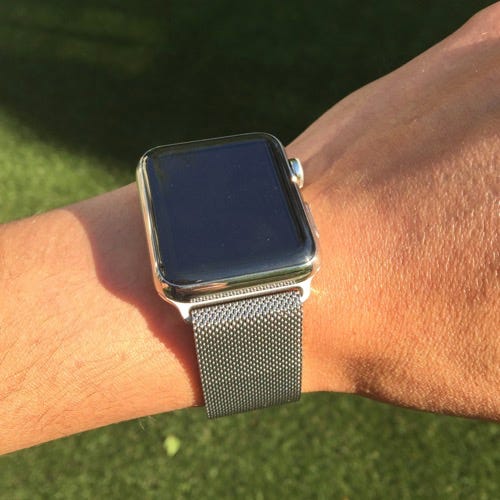 I find that I wear the sport band on the weekends and on my workout day. I then go back and forth between the two other bands.
The ability to change bands easily, and in less than 10 seconds is to me what makes this watch better than a watch. I think this is probably one of the best innovations Apple has delivered.
Experience The watch is not without its flaws. I expect these all to be addressed in the watchOS 2.0, but for now here are the big issues I encounter
Launching apps is basically impossible using your finger. I find using Siri the fastest way to do this ("Siri launch Stocks") or setting up glances for my favorite apps

Siri doesn't talk back to you which kinda stinks

Glances load slowly

Apps load slowly, and sometimes don't load before the screen times out

Watch and or Phone require reboots every few weeks when battery drain on phone gets excessive or notifications stop working

Navigating glances is poor
Not a huge list. Now lets talk about the positives
Siri, Calendar and iMessage and notifications are the heroes

Being able to answer a call on the watch is surprising useful and delightful. I was in the garden the other day without my phone and was able to answer the call

Changing watch faces is also quite awesome

Setting an Alarm on the watch is better than the phone (the wake up ramp is better)

The Activity stuff, while not critical to me, is nice to have. I like the progress report on standing and moving and find that I hit my 12 hour standing goal every day (I have a standing desk at work).

Turn by Turn GPS navigation is super handy

The sketch and send heartbeat stuff is mostly useless. No one sends me these any more and I don't send them either.
Apps I thought I would list out what I think of as my go to apps on the watch
Weathernerd - I love this app for weather and I get a daily alert each morning with the forecast relative to yesterday.

Overcast - I started to use this after getting the watch for podcasts as Apple doesn't have podcast support. I wish I had done this sooner. I use this Glance the most as well since it's the fastest way to get in my car and start playing a podcast

Todoist & Wunderlist - I have both. Not sure which one I'll stick with long term.

Reminders - no watch app but I love telling Siri "Remind me to research blah when I get home". Killer feature

Trello - we use this heavily for work and the apps + notifications are great

Deliveries - my go to app on iOS and Mac for tracking delivery status

Passbook - when traveling or paying at Starbucks this comes in very handy. Having gate information and boarding details on the wrist is great

PowerPoint - presenting from your iPhone and using the watch for next and previous is kinda Ninja. Note that for this to work well you need to change the watch setting to resume to the last app when waking and not the watch face.

Apple Pay - when it works… it's awesome.
Final Thoughts I really like this watch, and see a bright future ahead. Apple has already announced a few nice features as part of Apple Watch 2.
The big ones are:
Nighstand mode - watch will tell time on its side all night. Unfortunately every dock maker out there now is thinking DAMMIT! This will require docs to be redesigned for the watch to lie on it's side.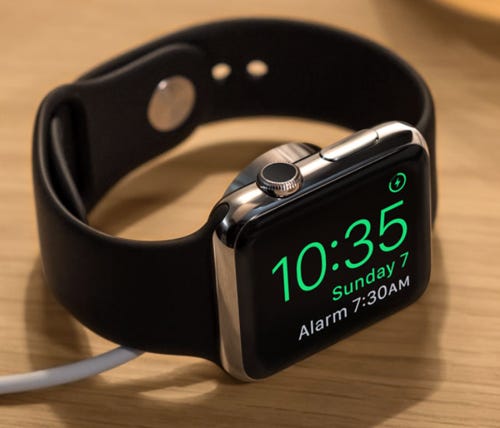 Native apps - today all apps are basically run through the phone. Apple's apps are native (stocks, weather etc) and you can see the difference
New Watch Faces - I wish Apple would allow 3rd party apps to populate a watch face background like our OneDrive app does on Android Wear. This would be a killer feature for me.
HomeKit support - with my forthcoming Insteon Hub and Light switch, I cannot wait to say "Siri turn off the bedroom lights"
It's clear to me that in 2-5 years, this will just become more and more incredible. I am really looking forward to the journey.
★★★★☆ Great. Worth purchasing.