Discover more from OmarKnows
An opinionated newsletter about products I love.
What I use: Knives
Like many of my friends, I got my first real knife set when I got married. I remember looking at knives in Williams-Sonoma and deciding between the two different German brands, and that was that. We had a "set" of about 6-7 knives for a decade.
Then I read this book, An Edge in the Kitchen.
 The book really opened my eyes. I loved this quote:
Knives are fundamental. They are the first and most important tool in the kitchen. You need two, a big one and a little one. They must be sharp. -- Michael Ruhlman, author of The Elements of Cooking
I'll cut to the chase and tell you what I learned:
You only need two knives - an 8inch+ chef's knife and a small pairing knife. With those two knives you can do anything.

You may consider a boning knife and a bread knife. A boning knife is great for removing meat from chicken or turkey where you need a thinner / bendable blade. A bread knife will never stay sharp, so get a cheap one and replace it when it's dull. Longer is better.

Sharp well cared for knives will stay sharp for years with a small amount of maintenance

German knives are forged which makes them heavier and is a more traditional process

Japanese knives are machined which produces a lighter and in many cases sharper knife. They are precision ground from a billet of high alloy steel and finished.
With this knowledge, I then did my research on Japanese knives. First thing I did was visit the Epicurean Edge in Kirkland, WA. They have an incredible array of knives to look at. I then wrote up my wish list. About a year later I have acquired all the basic knives I want, and donated all the German knives I don't use. I did keep my German Chef, pairing and boning knife. It's always good to have a double set of those.
The Knife I settled on is MAC Knife which is a Japanese company. Their knives are highly rated and adored by Chefs all over the world.
Here are "required" knives I now own:
Mac Knife Professional French Chef's Knife, 8-1/2-Inch (MBK-85) - ★★★★★ - A basic chef's knife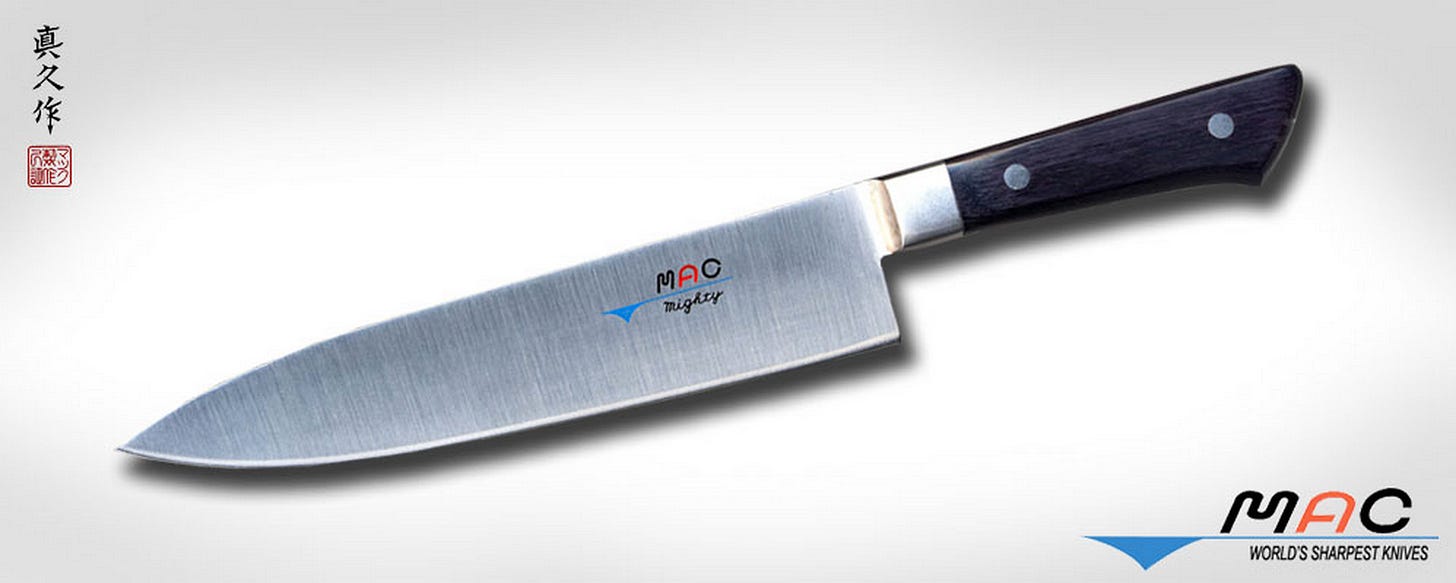 Mac Knife Professional Paring/Utility Knife, 5-Inch (PKF-50) - ★★★★★ - my wife's favorite knife. She uses this to make the kid's lunches every day.

Mac Knife Professional Paring Knife, 3-1/4-Inch (PKF-30) -★★★★★ - A basic pairing knife

In addition to these knives I also have the following:
Victorinox Swiss Army 10-1/4-Inch Fibrox Wavy Bread Knife, Black - ★★★★☆ - this is highly rated by Cook's Illustrated and is a cheap, and effective bread cutting knife. It's long enough that I can make long strokes to cut bread without hardly any effort. When it's dull, I'll just recycle it and get another one.

Victorinox 12-Inch Granton Edge Slicing Knife with Fibrox Handle - ★★★★☆ - When I cook a prime rib, or flank steak, I want a SUPER THIN and sharp knife to cut.

As I mentioned above, I still have my original J. A Henckels International Classic 5.5-Inch Stainless Steel Boning Knife - ★★★★☆. This knife get pretty beat up when making Turkey or Chicken.

And finally, every knife needs a good pair of scissors. For these I use the Messermeister 8-1/2-Inch Take-Apart Utlility Shear  - ★★★★★- These shears are awesome as they come apart and we can put them straight in the dish washer. They can also easily be re-sharpened.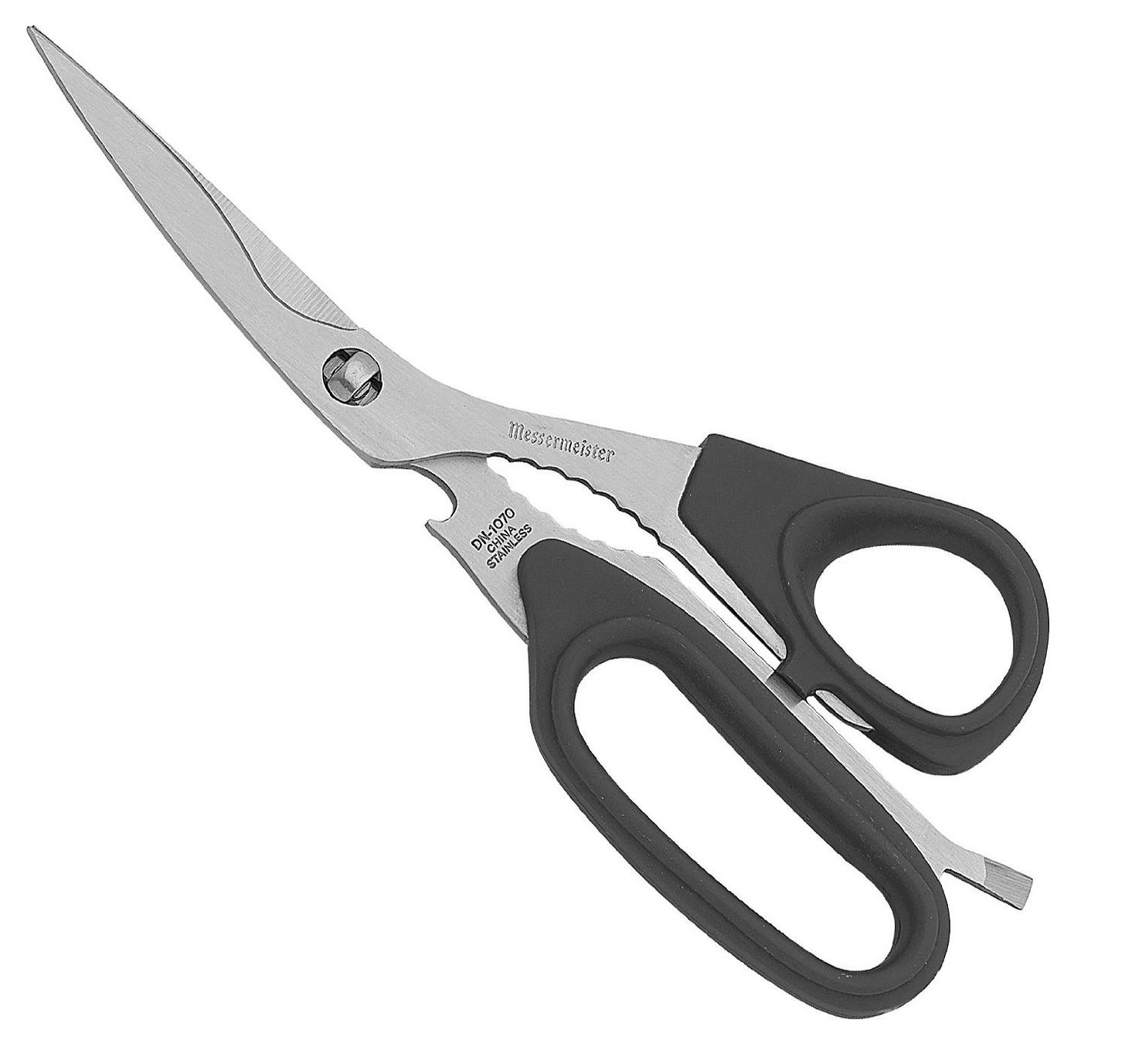 Last but not least there is the topic of sharpening. Sharpening is not an easy thing to do and it's important that you knives stay sharp.
If you want to learn to sharpen yourself, then I'd recommend the Apex Edge Pro system. It looks bizarre, but it's incredible.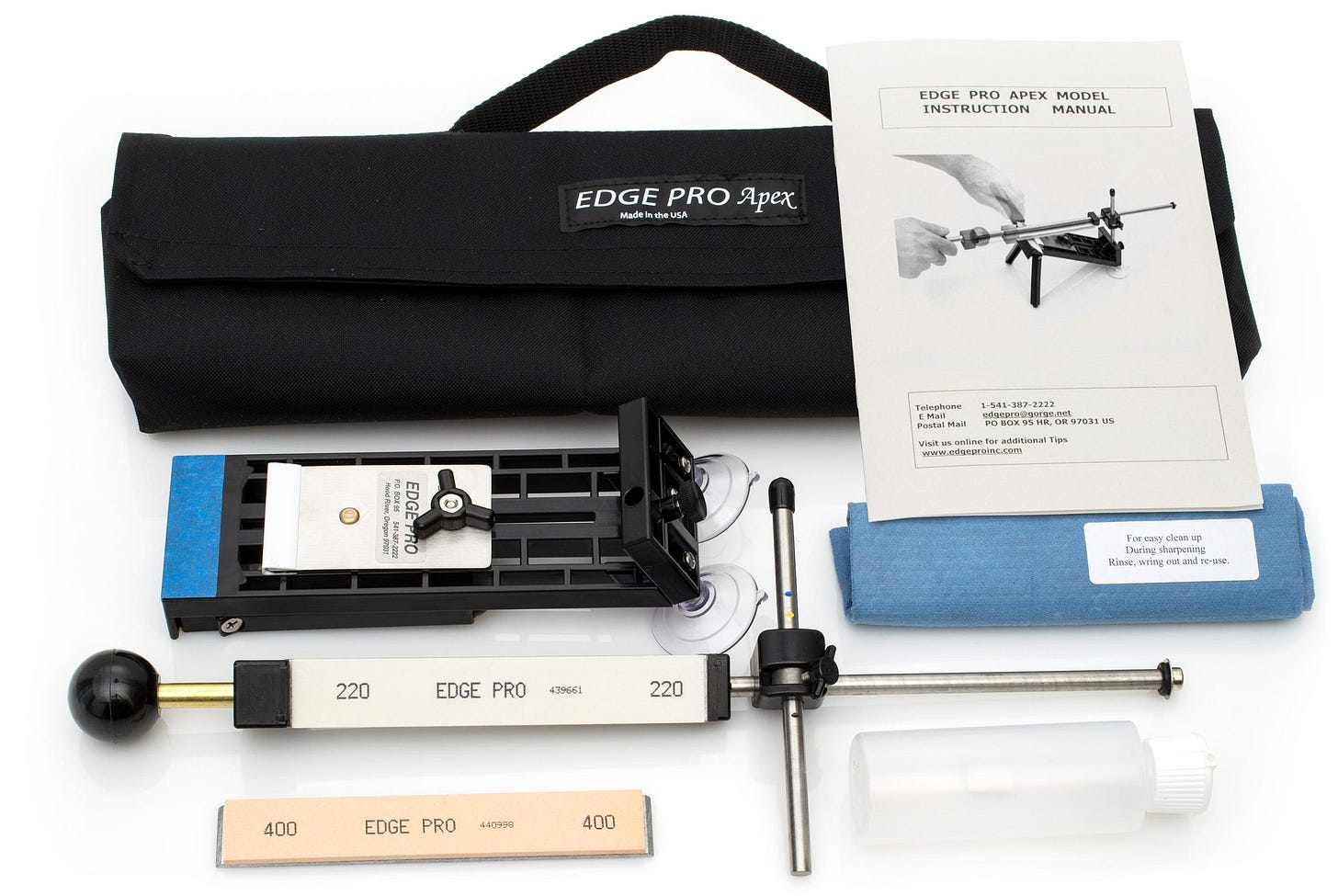 I'm personally planning to take my German knives to Seattle Knife Sharpening Service (you can ship there) to get my knives professionally sharpened. After 12 or so years, it's time.
Finally, you should have a ceramic rod to hone your knife. This will restore the blade when it has a burr on it.