Discover more from OmarKnows
An opinionated newsletter about products I love.
Zyliss Easy Spin Salad Spinner - 5 stars
I'm not sure if everyone owns a salad spinner, but we've owned one for as long as I can remember. Since I was little, salad has been a core part of almost every meal. And we eat our salad after our main course. Kind of like desert.
I never really though much about this device. For almost a decade we just brought it out, used it, and then washed / rinsed it. One day I noticed some mold. Upon inspection I found that there was tons of mold inside the cover of the device. After years of washing, water would get in and never dry out. Kind of like your front loading washing machine  If you don't know you need to leave that door open other wise there is mold in places you can't see. And run the sanatize cycle with a cleaner every so often. We do both.
Anyway, it turns out that inaccessible crevices + water will provide a happy medium for mold to grow. Eeeew.
I went to find a better salad spinner. I noticed the Zyliss Easy Spin Salad Spinner at our local cooking store.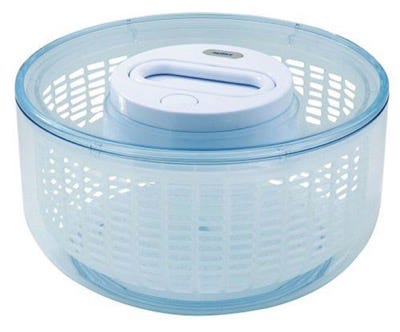 The main attraction to me was:
It's completley clear - no where for anything to hide

It can be completley dissasembled - the lid can be taken apart and cleaned

It's dishwasher safe
You can see in this photo how the lid comes apart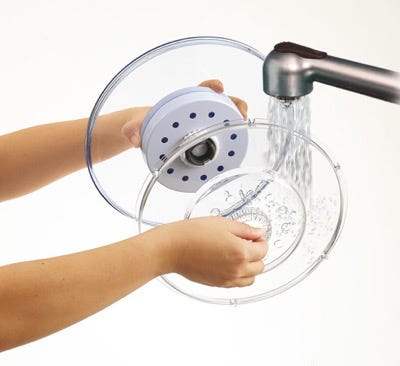 We've had this spinner for over a year now and it looks functions like the day we got it.
The product comes in clear and green and in two sizes. We have the large size and we use this almost every day.
5 stars! ★★★★★ Exceptional. A spectacular product.