Discover more from OmarKnows
An opinionated newsletter about products I love.
Battery Recycling Container - 4 stars
This is a bit of a strange product to review, but I'm doing it anyway.
Our household uses a lot of batteries. Where we can, we'll use rechargeable batteries. I've written about this before.
But there are many good reasons to use good old batteries. We have things like garage door openers, security devices, and some items that really just prefer alkalaine batteries.
When finished with a battery you are supposed to recycle them, not throw then in the trash. This is also true for many small electronics and other such products. To solve this problem I purchased this brown plastic recycle bin to store all our battery and electronic recyclables. Once a year I'll take it to the hazardous waste dump or an electronics recycling location.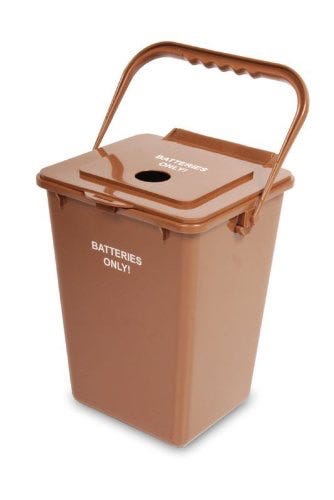 I hate running out of batteries BTW, and recommend getting a box of these Maxell 48 pack AA batteries and keeping them at home.
The Battery Recycling Bin, 2.4 Gallon can be purchasd from Amazon. They are often out of stock but it appears they have a bunch now. It's $26 and we keep ours in the garage. The kids know about it and so when they are discarding batteries they know where to throw them.
★★★★☆
Great. Worth purchasing.