Discover more from OmarKnows
An opinionated newsletter about products I love.
August Smart Lock - 3 stars
The idea of the automated home has been around for a while now. However, it's our mobile phones, and the advent of Bluetooth 4 Low Energy (LE) and geofencing that has unlocked the potential for this to become mainstream. In my last post on the Tile, I should have mentioned that this uses Bluetooth LE to do its magic.
Besides finding things, why  not automatically unlock your doors when you arrive at home? There are a number of products on the market today that do this sort of magic. The most popular and mainstream are probably the Kevo Smart Lock and the August Smart Lock. Apple recently started selling the August Smart Lock [$249].
The Kevo Smart Lock is rather invasive as you have to replace your whole deadbolt. A problem for me is that our house is keyed with Baldwin/Schlage blanks, and the Kevo lock is keyed with Kwickset, which are different keys. So that was a non starter. I like having 1 key for every lock in our house.
The August Smart Lock doesn't require you change out your deadbolt. Rather it replaces the inside part of the deadbolt, so you are not really doing that much to your locking system and it's easy to install.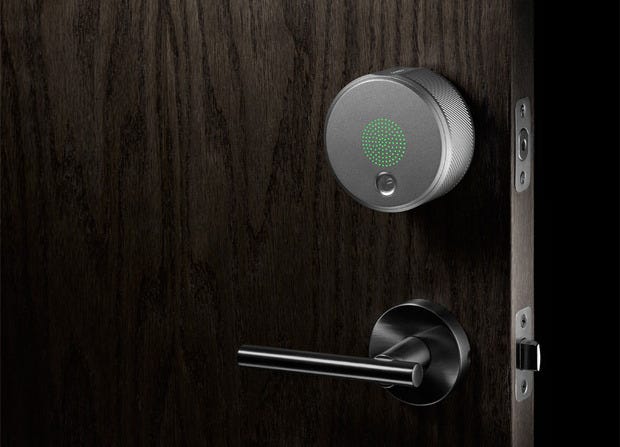 So how is it?
Well, it's OK. There are bugs and kinks, and my quick summary is "really cool" but not ready for main stream.
First, lets discuss what you can do with the August Lock.
Lock and unlock your door with your phone

Set your lock to automatically lock after a set period of time (Everlock)

Set your lock to automatically unlock when you return home

Allow guests to lock and unlock your door
I purchased 2 August Locks for our house where we have deadbolts. I imagine this world where I can leave my house without any keys (well just car key, which is a smartkey and I just push a button). In practice though it only works so so.
Here are my main issues:
1. Auto unlock does not always work.
I'm not sure if this is the interaction between the geofence and bluetooth (August uses geofencing to ensure the battery isn't constantly looking for your lock - which is smart) but it's not flawless by any means. It's a little deflating to come home and not have a $200 gadget work as described
2. The auto lock (ever lock) is great as I often forget to lock the door and my wife gets grumpy about this. However, in practice it can be problematic as I really only want this to run at certain hours, and how when I've gone out quickly to take the trash out and the door locks behind me.
3. The auto lock can damage your door frame if the door is not completely shut when the August attempts to lock the door. It's a bit too aggressive about locking. It would be great if it were able to detect if the door were "shut" before it attempted to lock the door.
4. Finally, the biggest issue I have with the August is a design flaw. The battery door is held in by magnets, and often people in our house turn the lock and inadvertently unseat the battery cover.
So in short. It's  neat. I'm pretty happy with mine. When the auto unlock works is downright magical. When I'm getting out of my car with my bag and my hands full and the kids in tow, walking right into the house is great.
I expect v2 will address most of these issues. For now, it gets 3 stars.
★★★☆☆ Good, but nothing exceptional.