Discover more from OmarKnows
An opinionated newsletter about products I love.
Amazon Fire TV Stick
Over the years I have owned a number of alternative devices to paying for cable and using a horrid cable box. First there was the Apple TV and I've now owned every version of the Apple TV. The Apple TV is a great product with a few exceptions. I chose Amazon for my Video purchases long ago due to their commitment to cross platform and cross device and would prefer that my purchases are playable on my XBox and other devices. Especially now that Amazon pretty much owns the kid's tablet device market. Both our kids have Kindle Fire HDX (last year's model) loaded with Amazon's Kid's Free Time App giving us some peace of mind. If you are in the market for a kid's tablet I'd look at the "Kids Edition" which is basically a Fire HD 7 with a 2 year warranty against all the damage your kids might do. It's downright silly to get an iPad for your kids given that they cost a lot of money and require a lot of work to lock them down making them virtually useless for anyone else to use.
Anyway, back to the topic I'm writing about. A few months ago I purchased an Amazon Fire TV.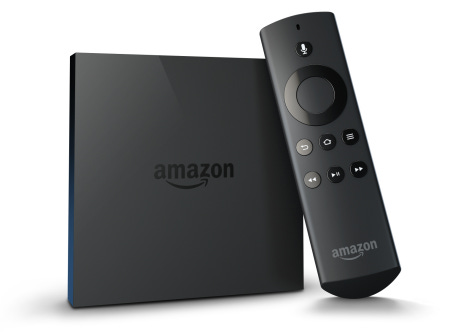 I wasn't using it much when I first got it as there wasn't any HBO content. There is now some via Amazon Prime, but word is that the HBO app will land by the end of the year.
Besides that issue, the device is pretty awesome. The most innovative feature is the voice remote. You can speak to it like Siri and not have to navigate around to watch stuff. Unlike Amazon on the XBox you can rent and purchase items directly on the device. And there is a Kid's Free Time app as well, similar to the Kindle Tablets.
Any downsides to this device? Not really. It competes in a crowded space with Roku, Apple, and Google's Chromecast (although that's not really a comparison).
And the biggest difference between this and the Chromecast? It doesn't require a phone, tablet or PC to operate. Chromecast is only for "casting" content from your device. Fire TV Stick is standalone meaning you can turn on your TV and play stuff without anything else. This alone makes the Chromecast a bit of a joke now as the Fire TV Stick also has the same "casting" features.
The device uses bluetooth for the remote, so if you have a custom remote setup, you'll need one of the newer Harmony Remotes that support bluetooth.
Enter the Fire TV Stick
A few weeks back Amazon did something unthinkable.... no, not launch a phone. That was a bit of a disaster for them. They did something that's closer to home and their strenghts. They took most of the functionality in the Fire TV (priced at $99) and removed some of the high end gaming features (which are really not what you'd buy this device for anyway) and packaged it up in a miniature stick like the Google Chromecast. Oh, and it's $39.
The Amazon Fire TV Stick.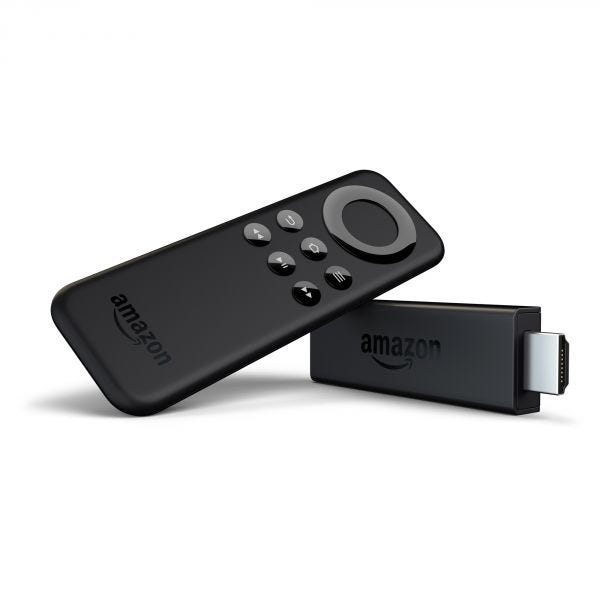 This thing is pretty tiny. It plugs directly into the back of your TV. That's honestly pretty neat since you don't have to worry about running cables, or anything else. You just need power for the USB cable, and that's it.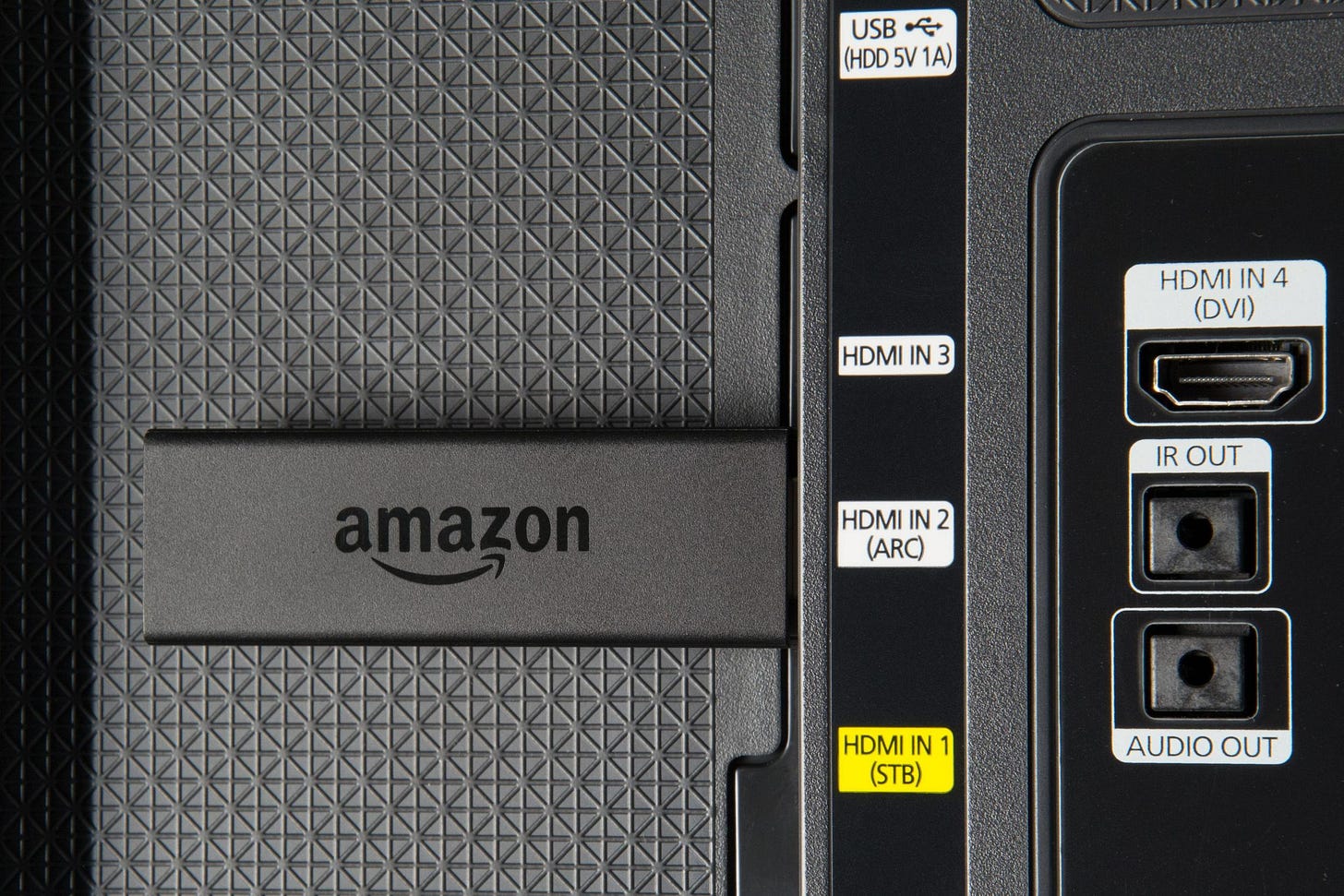 When you plug it in for the first time, it will spend about 30 min downloading an update. And then it will be automatically configured for your Amazon account (just like the kindle).
Interesting side note. Amazon is really really pushy about using their own supplied usb plug and cable for this device. They are so picky about it that the device complained when I started it up that I was not using the supplied cable and plug. In fact I was use an Amazon plug (5W) that came with the Kindle Fire HDX. But that was not acceptable. There must be some kind of software/hardware based detection which I find rather curious.
The device comes with a small remote, not the same voice remote as the Fire TV. You can purchase that separately for $29.99.
Given a choice between lots of devices out there to stream TV content, my choice hands down is the Fire TV or Fire TV Stick for the following reasons:
It's an open ecosystem. Anyone can write an app without any restrictions. Not true for Apple TV or even Xbox.

It's cheap. The cost to having streaming is lower than anything else out there

It's a standalone device.

It's backed by Amazon. Unlike the Fire Phone, this product is core to what they do. Sell you content. And they are dammed good at it. It's not a "hobby" for them.

It's got most of the apps you'd want to stream (minus the HBO issue).

It's easy to integrate into any TV environment. If you have a TV on the wall and can run any cables, you can use this.
You might ask why not a Roku? Seriously? When you have a choice to buy Amazon branded entertainment hardware over a company no one has ever heard of, the choice is pretty clear. Watching Amazon content (and even Netflix content) will be superior on this device. After all, this thing just runs Android apps anyway.
So, what's the final verdict?
★★★★★ Exceptional. A spectacular product.
Unfortunately this device is either so popular or they were afraid of making too many, and it's back ordered till Jan 15th. I got mine last week because I order everything like this within minutes of the announcement. It's always easy to cancel your order if you change your mind, but there is no skipping the line if you wait.
If you are reading this post via Twitter or Facebook you may want to consider subscribing my weekly newsletter and get reviews of products I love