Discover more from OmarKnows
An opinionated newsletter about products I love.
Hard Sided Spinner Luggage - Victorinox Spectra 2.0
I bet you were asking yourself, Gee Omar, when are you going to write about luggage and suitcases? Hmm, well maybe you didn't. But anyway, we are now venturing into the world of bags and luggage, a favorite topic of mine. I'm a big fan of quality products (I'm guessing you know this). When I travel I like to be a ninja. Prepared for the horrors of what is now air travel, with the right equipment to guide my family and its belongings to any destination. Luggage is a critical factor in ensuring your stuff arrives, is under the 50lbs airline limit per bag, and is easy to maneuver.
In 2000 we saw the advent of "spinner" hard sided luggage. You'll recognize these bags as the plastic (polycarbonate) sometimes "shiny" bags that you see people pushing around at the airport (these bags are pretty popular with our friends across the Pacific Ocean).
The father of the polycarbonate bag is Rimowa, a german luxury luggage company. If money is no object, stop reading this post and just go get some Rimowa bags. But if $800 or more for a single bag sounds like a lot, keep reading.
In the quest for some new luggage to replace our 15 year old Tumi ballistic nylon bags (that weigh a lot with nothing in them) I looked at and evaluated a number of options. What I found was that the best value for the money (across features, quality, warranty, and convenience) were the Spectra 2.0 bags made by the Swiss company, Victorinox.
Also, the thing that really set me off to get these was our experience on a recent trip to Hawaii. We happened to land in what felt like a Monsoon. Our then nylon luggage was soaked when retrieved from baggage claim. Eeew.
What is it?
Victorinox Spectra 2.0 bags are "matte" polycarbonate spinners. That means they have 4 wheels which makes them rather effortless to push through the airport.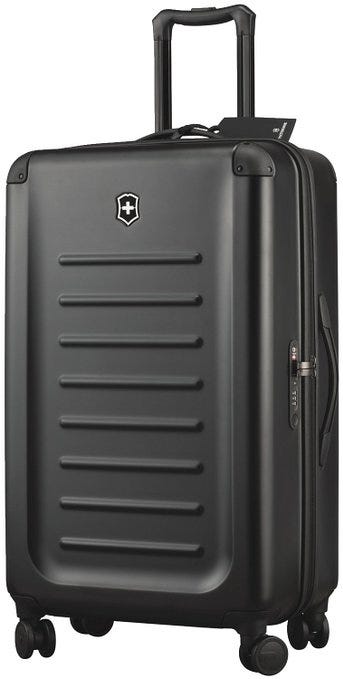 They are ultra light, non glossy (so they don't get all scuffed up and ugly), and the "perfect size". What does that even mean? Well with the 29 inch bag, it's actually quite hard to exceed the 50lbs weight limit in the US. This is important. I'd personally rather travel with more bags that are manageable to push around and carry than "monster" bags that end up weighing more than I care to lift and manage.
The Spectra 29 Large Travel Case can be purchased at a number of retail stores for $379.00. I purchased one from Amazon and one from Zappos, for the same price. You can also find them in shopping malls that have a Victorinox store.
They come in many colors. We have black and red. The red looks more scuffed up for obvious reasons.
Why did you get it?
To summarize:
Wanted to consolidate to a single model of luggage for the whole family

Wanted spinners

Wanted light weight bag (the Spectra 29 is 8.8 lbs empty, giving you 41.2 lbs of luggage to store

Looking for great warranty with local stores to take bag too for service

Wanted polycarbonate bag without any bits of fabric or stuff to get ripped off by the airline

Easy to lift and carry to get up to our bedroom for packing and into the car to go to the airport.
How has it made your life better?
We've now traveled with these bags for a few thousand miles and to a few countries. Each time we've managed to fit all our clothing for a family of 4 into two bags. I suspect as the kids get older and they start managing their own luggage, we'll get 1-2 more of the smaller 26 inch models. But that's a few years off.
I like to think that the cost per bag, and the anticipated longevity of these bags (10 years or more) will be a solid investment.
I think my favorite thing with these bags though is how easy it is to push two of them through the airport and get in and out of elevators, escalators, cars, checkin and pickup. They are so easy to push and carry. If you need to you can also "drag" them along like a traditional wheel bag.
If you are thinking about new luggage, or perhaps it's a few years off. You should take a look at these bags (and feel free to compare to the cost/features of the  Rimowa/Tumi/Samsonite polycarbonate spinners). I find that the simplicity of these bags, coupled with the features and warranty are a great investment if you want to transition to hard sided spinners.
Are you going to keep it?
Well, we donated all our other luggage. So yes ;-).
Newsletter

If you are reading this post via Twitter or Facebook, I wanted to note that you can sign up for my weekly email newsletter. It contains all items posted here and is sent on Sundays. You can sign up by going to http://omarknows.com