Discover more from OmarKnows
An opinionated newsletter about products I love.
Normal Ears - custom 3d printed headphones
If there was one thing that Apple did (and they did many), it was create a vibrant market for headphones. Since the advent of the iPod, white headphones where every where. Prior to this, most people didn't care about headphones and most headphones were black and boring. Fast forward to this year, where headphones have become so iconic, and fashion oriented, that Apple purchased Beats Audio for over 3 billion.
But the problem with headphones, is that they are "one size fits all". We all know that for most products, this approach leads to some amount of discomfort. And specifically, I'm referring to "earbud style".
Earbud headphones are great because they are compact and you can easily take them anywhere. The challenge with earbud style headphones is that:
They don't often "fit" very well, falling out of ears

The "in ear" ones require fiddling around with different size ear tips and at least for me cause a lot of discomfort from the pressure in my ear.
These problems are hard to solve. Up till recently "custom" earmolds for earbud headphones (offered by Shure, Etymotyic and the like) require a visit to a hearing specialist where they take a mold of your ear and create a silicon tip. Usually for the cost of a few hundred dollars.
Well, there is a company trying to change that, and their headphones are called "Normals"
What is it?

Normal ears are created in New York City using 3D printers. The way it works is that you download an app do your iOS or Android phone and take some photos of your ears. Based on those photos, they create custom fitted earbuds and ship them to you in 24 hours. Pretty neat. You can read more at Venturebeat:
The company's big innovation is its ability to create $200, 3D-printed earbuds that are molded for your ears. Normal's iPhone app can capture the contours of your ears just by taking a few photos while you hold a quarter up to your ear (for a common reference size). Your unique headphone frame is then 3D printed (the company has 10 Stratasys Fortus printers at work in its retail space) and then assembled and tested by a crew of employees.
You also get to personalize your earbuds in a number of different colors. I personally like that experience of creating something unique for me.

Here is what customization looks like in the iOS app.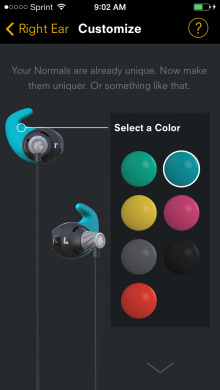 Here are a picture of my earbuds in the custom case they made for me: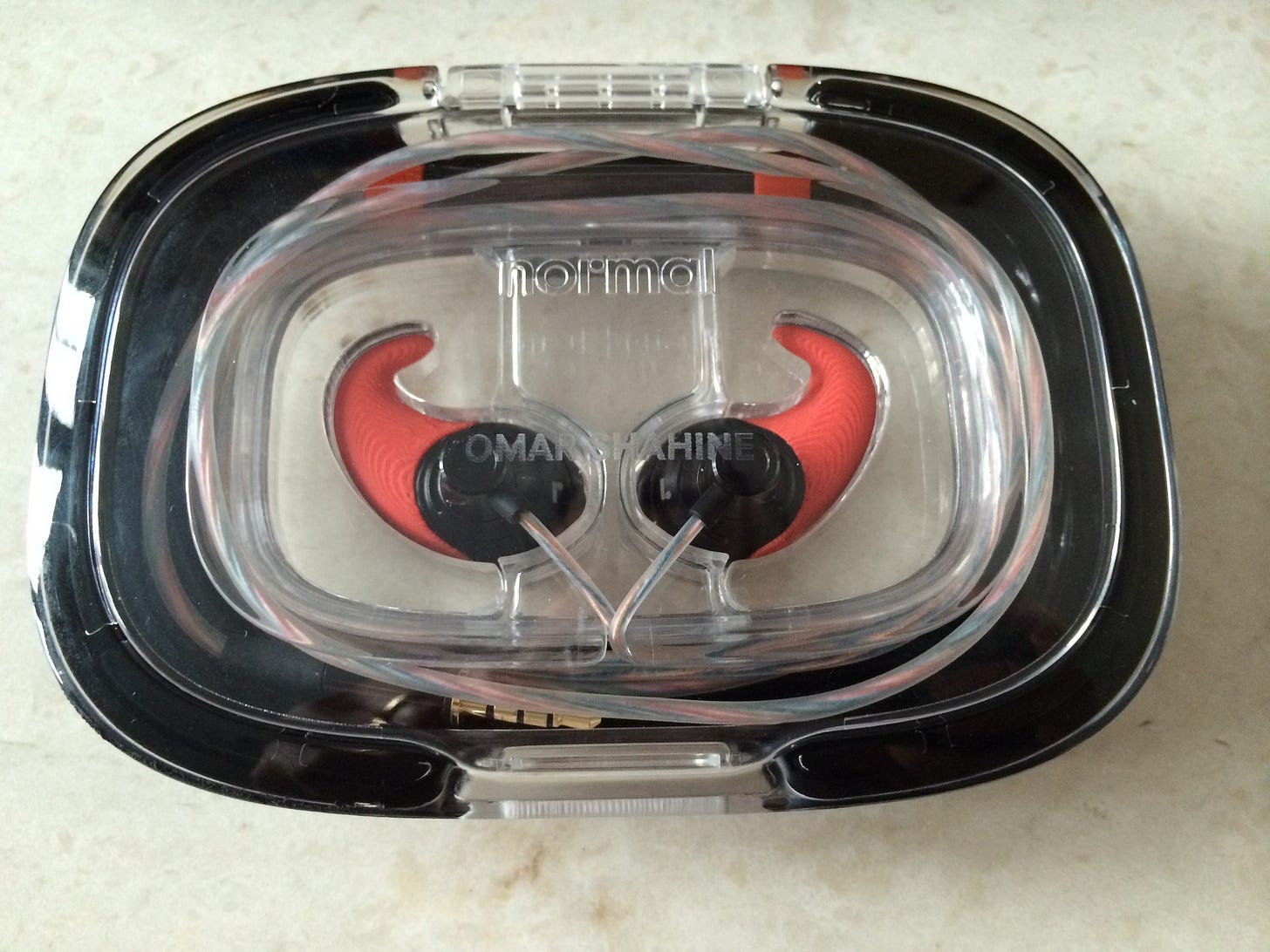 I originally went with black everything and red plastic, but then decided the "red" was too orange for me, so they swapped it out for blue.
Normals are not cheap. at $199 you are making a pretty big investment in your ears. But given how much music I listen to on the go, commuting, and traveling, I felt that this was something I'd get a lot of value out of over time. A set of high quality headphones at the Apple Store is going to run you $79 - $500 and up, so this is a market segment where you can spend a little or a lot to listen to music.
Everything about creating them is fun. And their brand is very playful / whimsical.
Why did you get it?
I really like the idea of having earbuds with me at all times, but I can't tolerate the discomfort the silicon / foam inserts cause after a while of listening to music. The Normals are very comfortable as they don't go in to your ear canal, but they mainly sit over your ear canal supported by the custom 3d printed plastic. It's mainly friction that's holding them in place. They don't fall out, so they are well suited for running too.
How has it made your life better?
I think it's pretty remarkable that you can get custom items these days based on using an app on your phone and 3rd printing. I imagine that we'll see a lot more of this over time.
Normals have the added benefit that when I commute, I can still hear road noise and sounds around me (they are not sound isolating). They are similar to the earbuds that come with the iPhone/iPod by default, but don't fall out of your ear and sound much better.
Are you going to keep it?
Till something better comes a long. I've found them to be much more comfortable from regular earbuds (albeit not perfect). But there isn't really a product that offers this much customization delivered so quickly.
If you are interested, you can order your own Normals by heading over to http://nrml.com/ and downloading their app. In about 10 min you'll have taken the photos and customized your Normals.
Newsletter

If you are reading this post via Twitter or Facebook, I wanted to note that you can sign up for my weekly email newsletter. It contains all items posted here and is sent on Sundays. You can sign up by going to http://omarknows.com