Discover more from OmarKnows
An opinionated newsletter about products I love.
Vornado 660 Whole Room Air Circulator
It's summer. If you are lucky, you have air conditioning. Most people in Seattle do not. When we purchased our house, one of the first things we did was get AC. Why? Because my wife (and honestly I) can't sleep in a hot room. We have a 3 story, new house. As such it's incredibly well insulated and when it gets hot, it stays hot for a long while. When purchasing our house though, we made the mistake of getting whole house air conditioning because our house was plumbed for it. However in hindsight, that was a mistake. We would have been way better off installing a Ductless Mini-Split system in our 3 bedrooms. This would have provided the correct sleeping temperature in the only rooms that we need cooling, without wasting money cooling our whole house (mostly unnecessary here in Seattle). Ductless mini-split is designed for people that don't have ducting (radiant heat or no heat), but they can also act as heat pumps and heat in the winter. Think of them as basically an air conditioner that can run in reverse to heat as well.
Anyway, what's done is done. We have a problem though. Our bedroom is quite large (with vaulted ceilings), and on a moderately warm day (> 76) our room gets beaten by the sun, and with the vaulted ceilings doesn't really cool down enough by the evening. After a few years of pondering a solution, it turned out some old school tech was all that was needed. A Fan.
note: scheduled for a different / future post is our wool duvet and bed cover, which probably has had the most profound impact on our sleep comfort.
What is it?
The Vornado 660 Whole Room Air Circulator is a Fan, but it's not really designed to blow air at you. It's designed to circulate the air in the room. And boy does this thing move air around. It turns out that air movement (or the lack theirof) is the primary reason our room didn't cool down. Our ceiling would collect hot air, and that hot air would fall as the day went on, crushing the ability for our ducts to push enough cool air to keep things comfy.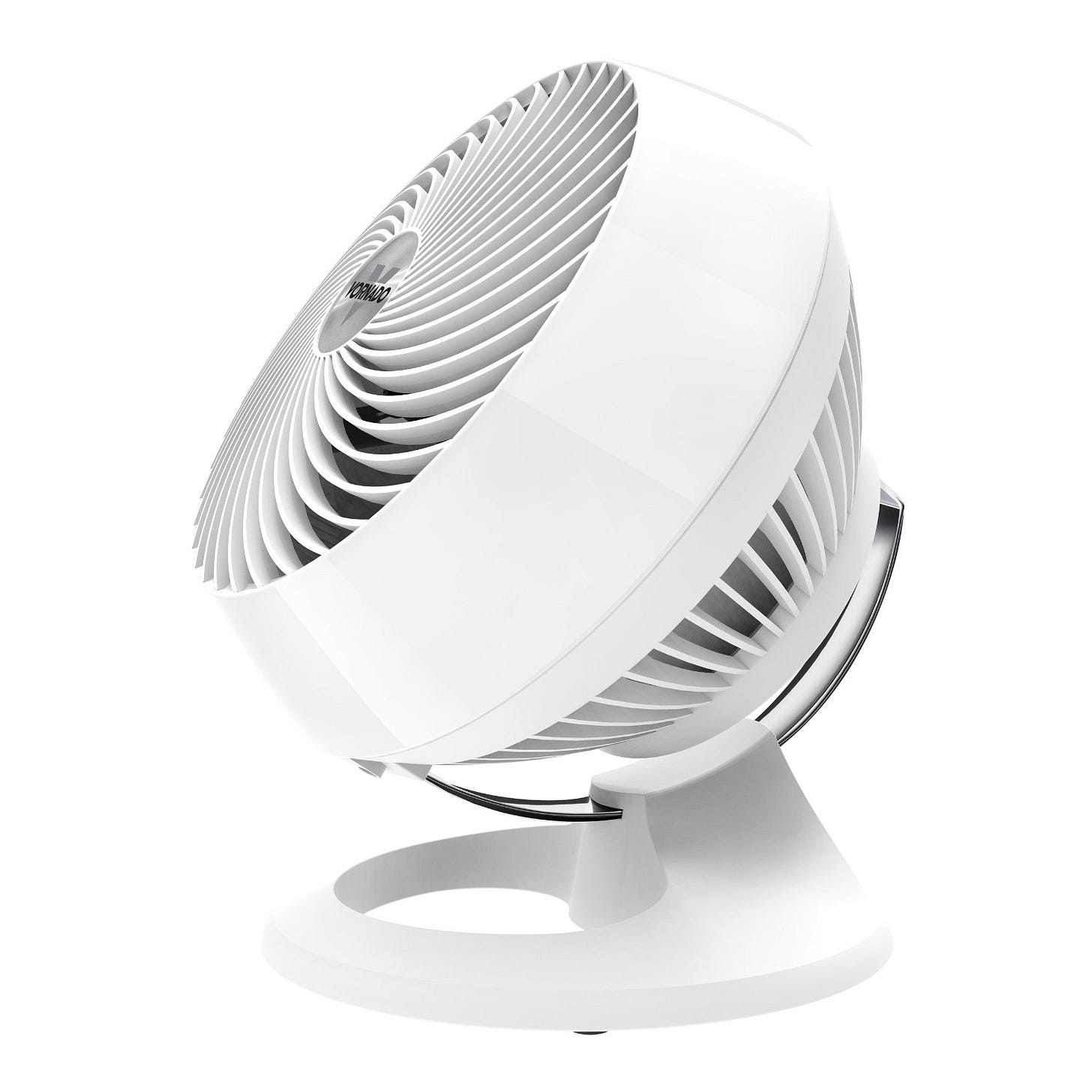 You can see from the photo, that this thing looks nice. It comes in White and Black [$99 @ Amazon]. We chose white for our room. It's not a nice looking as say the $300-$400 Dyson Fans, but the cost / benefit to this guy is kinda nuts in my opinion.
The reason it's tilted up because you are supposed to "point" it at say the corner ceiling of your room to get air circulating. You do not point it at your bed for example.
Why did you get it?
I got this particular Fan because of the rave reviews on Amazon, and my general familiarity with Vornado. I wanted to love the idea of getting a Dyson fan, but the reviews are pretty mixed and the cost is pretty high.
How has it made your life better?
We've had this Fan for a few weeks and my general observation is that it's cooled our room about 3-4 degrees. That's a pretty substantial difference for us.
I have placed it within the vicinity of our duct, and so it managed to capture cool air (roughly 50-60 degree) and blow it straight up to the vaulted ceiling, pushing the hotter air down back into the room.
The fan has 4 speed settings. The lowest setting produces a very comfortable flow of air with minimal noise. The 2nd setting is a bit stronger with a bit louder, but tolerable noise for sleeping. 3 and 4 are left for mega hot days (80+ degrees outside) and we leave it on 3-4 during the day and then 1-2 at night.
Are you going to keep it?
This should last a good long time. We plan on getting a smaller model for our daughter's room which has a different problem. Too cold in the winter as her room is over our garage, and it tends to be a cold spot in our house.
Newsletter

If you are reading this post via Twitter or Facebook, I wanted to note that you can sign up for my weekly email newsletter. It contains all items posted here and is sent on Sundays. You can sign up by going to http://omarknows.com