Discover more from OmarKnows
An opinionated newsletter about products I love.
Doxie Flip
My guess is that many of you have a scanner, and probably can't figure out how to use it. My experience has always been that scanner software is nearly impossible to setup / configure / use and keep working. For the past many years I've had an expensive Fujitsu scanner for being nearly 100% paperless. This thing gobbles up mail, statement and papers and turns them into PDFs (I'll save this for another post). However, what about all those 4x6 photos you have? Receipts? Or really large items that can't be easily scanned? Enter Doxie. The scanner with nothing to install, no computer to plug it into, the scanner that's easy to use and cheap. There are multiple Doxie models:
Doxie Flip - flatbed

Doxie One - sheet fet, basic model

Doxie Go - sheet fed, rechargeable battery, 2x the optical resolution, and built-in memory
This post is about the Flip
What is it?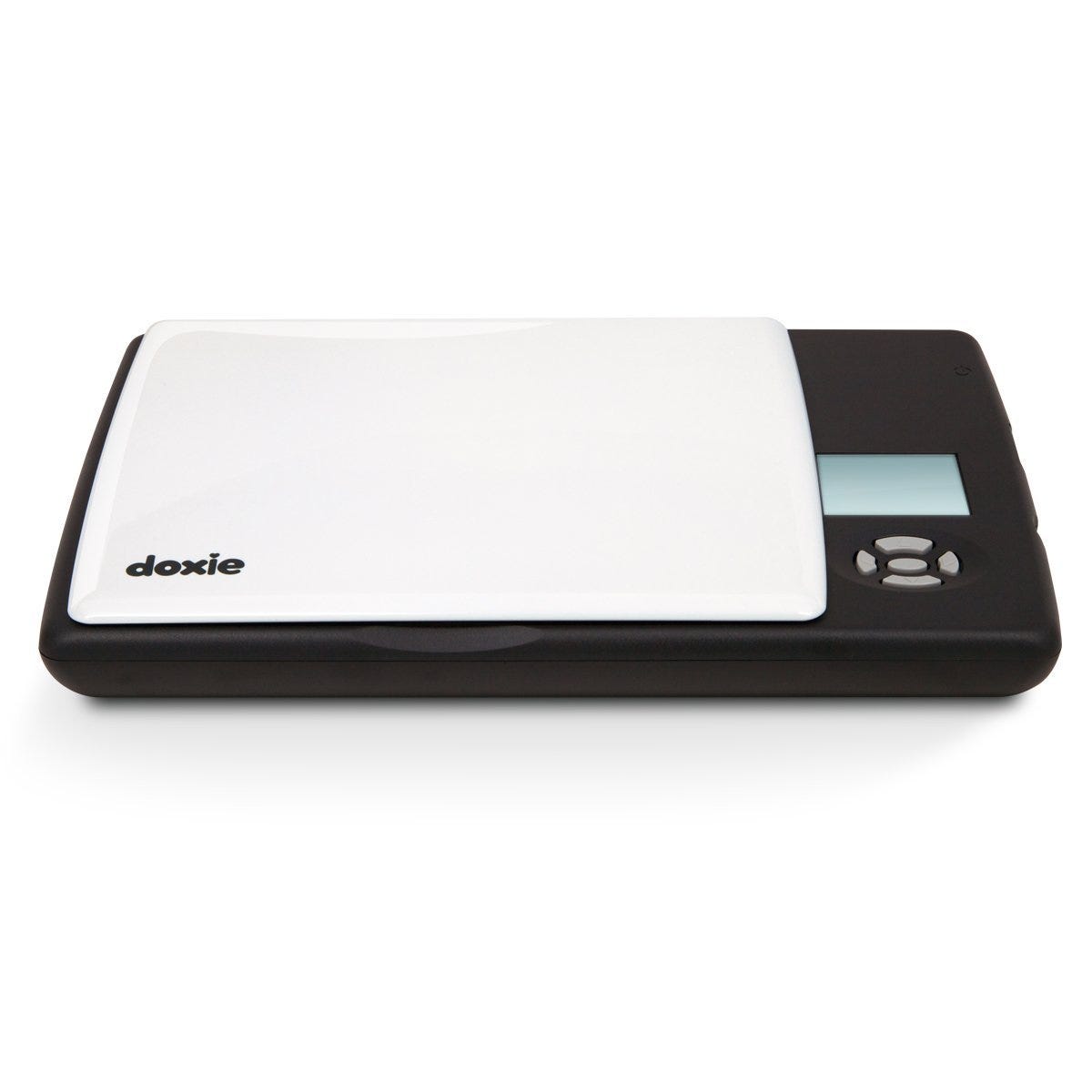 The Doxie Flip [$149 via Amazon] is a tiny flatbed scanner that doesn't need a computer. It scans photos, receipts and large items (via a clever removable lid and software that stitches photos) and stores them on an SD card that you can later pop into your computer and download (like a camera). You can also, optionally, add an Ey-Fi card and just have the items wireless upload to your cloud of choice (or PC).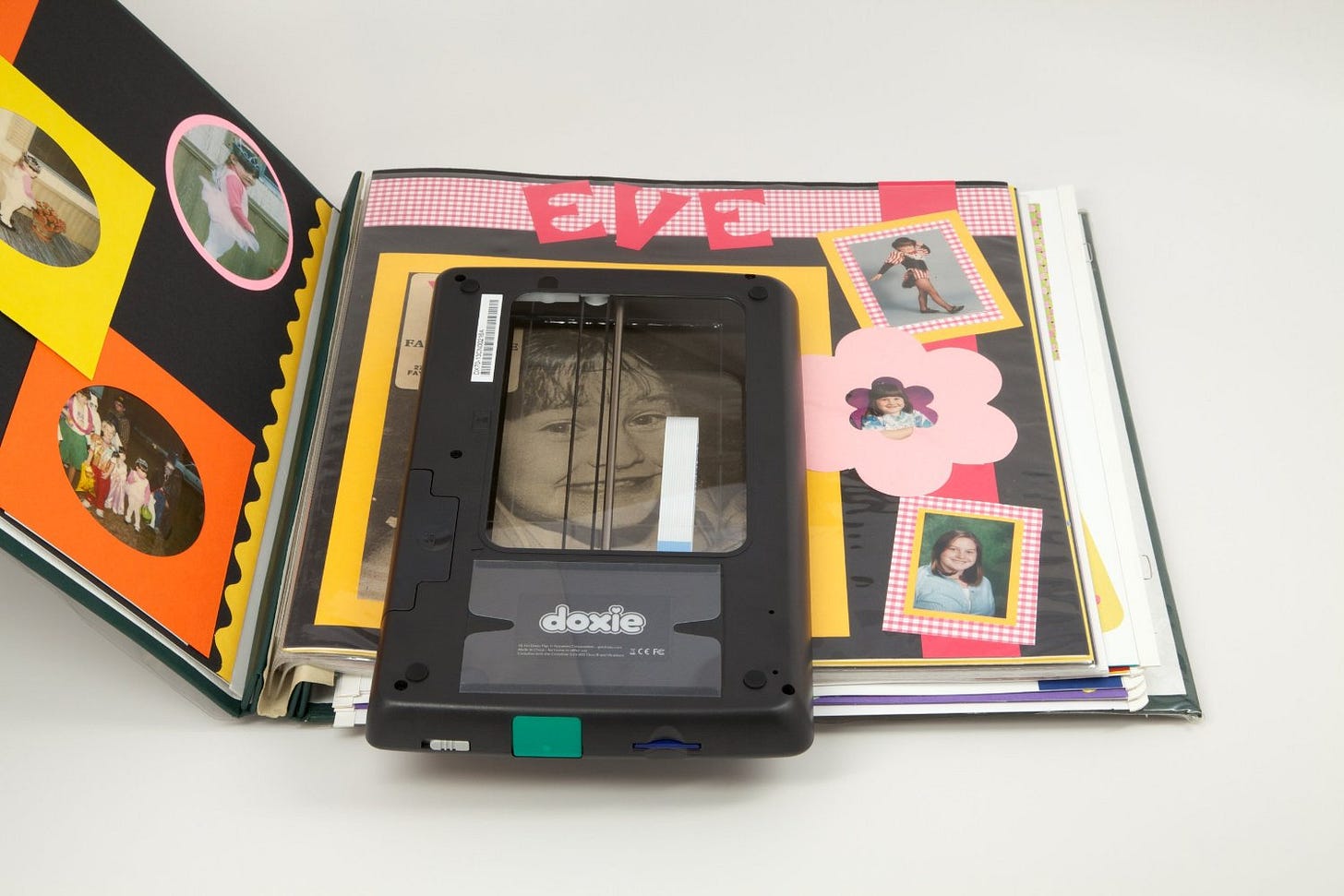 Why did you get it?
Every few months we get some analog photos that need scanning and recycling (we are all digital). And every few months our daughter brings home some largish piece of artwork or poster that won't fit in our scanner. So I use Doxie to get them into the PC and archived.
I pretty much just scan anything I might feel guilty about throwing away, and then I throw it away.
We also have a few hundred old photos that my parents gave me (smaller than 4x6) and so over the past year I have been scanning batches of these photos. You really need a flatbed scanner to do this as any scanner that feeds in photos will get scanned in with lines on it due to the glossy paper + dust creating bands / lines on the photos. Flatbed scanners can be a bit of a nightmare when tethered to a PC so this turns out to be a great way to get all those family memories scanned and archived.
So I did some research looking looking for something that was easy to use, didn't require a PC, and was portable (this thing runs off AA batteries).
How has it made your life better?
It's a lot easier to get stuff on the PC and share it. It makes getting those hundreds of analog memories we have easy to get on our PC and archived forever.
What I will do sometimes is plop down in front of the TV and scan a few dozen photos in batch, then import them to the PC and recycle the photos.
I just keep this little scanner in our kitchen and anyone can just grab it and scan a photo. My Eye-fi card delivers it to my PC where it's stored on a local RAID hard drive and then backed up by Crashplan to the cloud.
Are you going to keep it?
I've had this for a few months now and still use it every month. Very handy and simple. I highly recommend you get the Flip, or take a look at their other models.