Discover more from OmarKnows
An opinionated newsletter about products I love.
Logitech Harmony Smart Control
note: I got some feedback from some folks who shall remain nameless, that the name of this newsletter is lame. Fair enough. For many years I've held on to a domain, omarknows.com, that I registered after coming back from a conference with some co-workers. They nicknamed me 'omarknows' because I had the answers to many of their gadget and technology questions. I had forgotten about this, but when I proposed this back to the nameless party who gave me feedback they thought it was much better than "Newsletter of Things". Therefore, I will have re-branded the newsletter.
I have owned many Harmony Remotes (now owned by Logitech) since they launched their original model in 2004. Back then the idea that you could program a remote with hard buttons was novel (vs a pure touchscreen remote). Today there are hundreds of options. A few days ago, on the recommendation of a co-worker, I replaced my rather expensive Harmony One with a low cost smartphone powered remote.
What is it?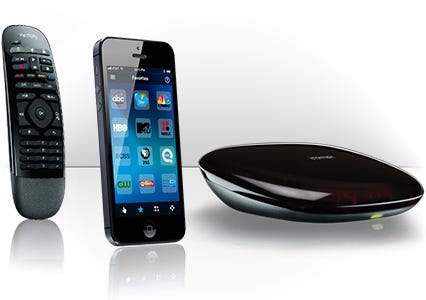 Logitech Harmony Smart Control [$109.99 via Amazon] is a very simple, light and low power remote that talks to a "base station" that you locate next to your electronics. You program everything via an iPhone or Android app. Gone are the days where you need to download a bunch of software on your PC or Mac (mostly horrible) and spend time going back and forth from you PC to the media room testing to see if things work.
Once you have gone through the well designed setup process you simply enter the model number of your devices and test things out. I had no trouble getting it all working. One benefit is that the device has no IR on the remote at all. All the IR blasting is done via the small base station and small IR emitters that you can place far away from the device if you have to locate the base station in a closet for example. The "brains" for this whole system are in that base station.This is what allows for an iPhone app to control the whole system.
It was easy enough that without any explanation my 7 year old and my wife were able to use the remote and turn on our TV + Xbox without any problems. Success!
The build quality of the remote is fantastic. It's light, feels good and operates off a watch battery. No charging required and no battery draining LCD screen.
Why did you get it?
The main reason was to simplify the remote control situation and remove the need to have a remote that is charged often, as well as remove any need for "line of sight" IR as that can result in some aspects of the system not powering on causing confusion and frustration.
Also, removing the need to have the Logitech software running on my PC + the additional iPhone + Android app was a plus.
How has it made your life better?
See above. I assumed it would be better, sight unseen (and based on a positive recommendation).
Are you going to keep it?
Yes, for sure. This is my 6th? Harmony Remote. I basically replace one every 3 years as tech improves (I actually have 2, one for each TV).
The price is very attractive if you are someone who has 2-4 remotes today and you are looking to simplify without having to use any complex software or programming. If you can use an iPhone app you can set this thing up and simplify your life.