Discover more from OmarKnows
An opinionated newsletter about products I love.
Kindle Paperwhite
I think I am going to give this blog thing another go. The Kindle Paperwhite is my 4th e-ink Kindle. All in all between my wife and I we've owned every Kindle except for the original touch. Each on has brought some kind of major improvement in technology. Each one has improved on the e-ink technology.
It's amazing to think that the original kindle cost $399, had a keyboard and lots of buttons and the latest Paperwhite has no keyboard and no buttons (except power).
The first few times I used the Paperwhite I have to say I was underwhelmed. My wife has the "el cheapo" Kindle. Whatever the name is for the $79 one. On our 15 hour flight from Seattle to Dubai she was really jealous. The back lit screen is really great for a dark cabin. And my other favorite feature is the estimated time to finish a chapter. This feature is unique to the Paperwhite and it's really amazing. When you are trying to negotiate trips to the bathroom or reading in between meals it's awesome to know how long it will take to finish reading something.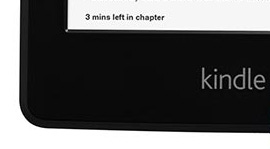 And in the end, this to me is what makes software so magical. An analog book can't tell you it will take you 3 minutes to finish the chapter. And this is a great example of a feature that I never knew I needed.
Coming up with these kind of features is very hard. Because everyone in software has a long list of things to do that people have asked for or are deficiencies in the product. Most software folks could dedicate 100% of their time to addressing these issues. But you have to make time to invent things people will appreciate and thank you for, and counter the risks that you could build something useless that could drive away your customers.
It's these kind of features which really endear people to what you make. I hope Amazon brings this feature to other Kindles but for now this uniquely differentiates the Paperwhite beyond just the backlit display.