Discover more from OmarKnows
An opinionated newsletter about products I love.
Safely signing in on a computer that's not yours
One of the big problems with the proliferation of spyware and bots is that using a computer that has not been in your possession or control 100% of the time could result in bad things happening when you log into a website. Basically your password can get stolen and your account hijacked. If it's your email or Facebook account that this happens to, a lot of really unfortunate things can happen to your data, and your friends can get spammed.
This is why I never use anyone else's computers but my own, and I insist on taking my iPhone and laptop with me when I travel and using either Wifi or International data to get my email, log into Facebook etc. However there are cases where you need to get to your email account from a computer that's not yours (like a hotel to print out a boarding pass, get important documents in your email etc). For this reason, the folks that work on Windows Live ID built a single-use code login feature.
The way this feature works is that when you type in www.live.com or www.hotmail.com there is an option to Sign in with a Single-use code.
Selecting that option will send an SMS message to a mobile phone number with a numeric code that you can then use to log in.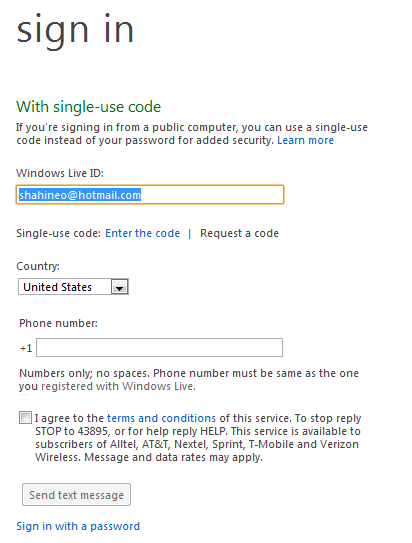 This feature requires that you previously registered this code with Windows Live, which you can do at http://sms.live.com
Here is what the SMS message looks like.
I hope more services add these really useful safety features.